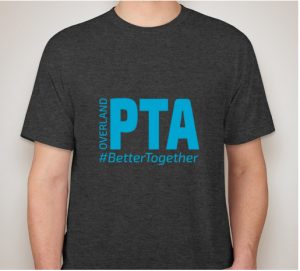 You deserve this gift: your #BetterTogether T-shirt!
Show your support to Overland by wearing your T-shirt for Spirit Day every Tuesday. Yeah right: not only our kiddos, but Teachers and Parents can stand proudly together!
So join the PTA and receive your gift.
Contact Elaine, or meet us at the PTA tent every 1st Friday of the month, or stop by our shop* or contact Rehana for information & orders.