Ask your kiddos what they think a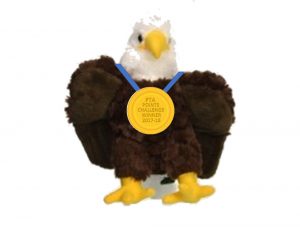 bout our staff writer 4th graders, Ian and Declan's list:
Henry, Adrian, Bob, Jeff, Boggle, Baldy, Bloby, George, Terrence, Fuzzy, Great Eagle, John, Banger, Wayne, Joe, Golden Eagle, Wings, Thunder, Eugene, Bobby Bolt, Tornado, Mr. Overland, Marshmallow, Stephen Curry, Eagy, Swoop, Philadelphia,, Screech, Mighty Eagle, Mr. Feathers, Thunderbird, Flappy Bird, Poppie, Poppy, Mr. Eagleton, Homer, Oat, Teddy, Meme, Beakers, Big Bird, Meatballs, Keakea, Caramel, Ed, Willy Wonka and Eagle Power.
Choose a name or suggest a new one via email here or into Ms. Goffin's mailbox in the main Office.
Download here October 2017 Soaring High edition.